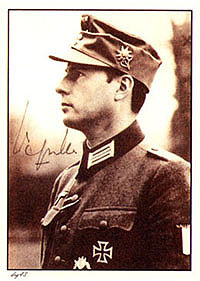 Léon Degrelle - 16 01 1943 - Hommage à l'Allemagne
Léon Degrelle - 5 03 1944 - Waffen SS LVF Milice
Léon Degrelle - 27 06 1943 - Hommage aux Russes


Léon Degrelle's story is probably the most unique tale of courage and determination to come from the ranks of foreign volunteers in the Waffen SS. He worked his way up through the ranks from private to general in a very short space of time and led a distinguished career, becoming the most decorated and famous foreign volunteer in the entire German Army.
Leon Degrelle was born in 1906 in Bouillon, a small town in the Belgian Ardennes. His family was of French origin. He studied law at the University of Louvain but left University after two years. . As well as this he was also greatly interested in political science, art, archaeology and Tomistic philosophy. During this time his leadership qualities came to the fore. and it was apparent that he possessed great academic skills, having published five books and running his own weekly newspaper dealing with current issues, by the time he was twenty. He was also a devout Catholic, being an active member of Belgium's Catholic Action Movement eventually becoming one of its leaders.