______________________________________________________________________________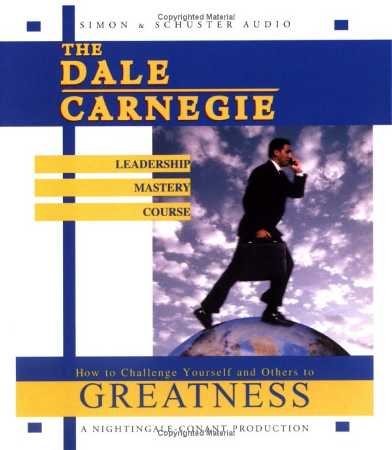 Dale Carnegie - Leadership Mastery Course.rar (63.96 MB)

In a world quickly becoming more virtual, human relations skills are being lost -- along with the skill of leadership. When you develop your leadership ability through The Dale Carnegie Leadership Mastery Course you'll learn to be flexible, adaptable, and trustworthy, as well as a tough and decisive distributor of power. Learn all the secrets of leadership mastery:
* Gain the respect and admiration of others using little-known secrets of America's most successful leaders.
* Get family, friends, and coworkers to do what you ask because they want to do it, not because they have to.
* Respond effectively when under crisis using proven techniques for thinking clearly and reducing anxiety under pressure.
* Accomplish twice as much by learning to motivate others to perform at their best.
* Make powerful decisions and follow through on them using Carnegie's action formula.
A valuable tool that stands next to the classic How to Win Friends and Influence People, The Dale Carnegie Leadership Mastery Course offers a proven formula for success.
About the Author
Perhaps more than any other person who ever lived, Dale Carnegie changed the human relations movement. His world-famous course has influenced millions of people. Looking back on his life, Carnegie saw that worry and fear were the forces that held him back. Conquering worry and fear gave him a new hold on life. He developed the Dale Carnegie Course as a forum for overcoming worry and fear and developing human relations and leadership skills.
______________________________________________________________________________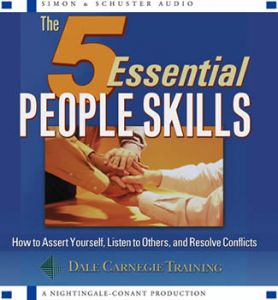 The 5 Essential People Skills: How to Assert Yourself, Listen to Others, and Resolve Conflicts
Dale Carnegie - The Five Essential People Skills.rar (69.25 MB)

Have you ever walked away from a conversation full of doubts and insecurities? Do you feel as if you've lost a little ground after every staff meeting? Most of us are either too passive or too aggressive in our business life, and we end up never getting the support, recognition, or respect that we desire.
The business leaders and trainers from Dale Carnegie Training® have discovered that applying appropriate assertiveness to all your interactions is the most effective approach to creating a successful career.
The 5 Essential People Skills will help you be the most positively assertive, prosperous and inspired professional you can be. You will learn to:
• Relate to the seven major personality types
• Live up to your fullest potential while achieving personal success
• Create a cutting-edge business environment that delivers innovation and results
• Use Carnegie's powerhouse Five-Part template for articulate communications that grow business
• Resolve any conflict or misunderstanding by applying a handful of proven principles
Once you know and can employ these powerful skills, you will be well on your way to a new level of professional and personal achievement. You will see a transformation once you put these five essential skills to work for you.
______________________________________________________________________________
Last edited by Charognard (16-12-2010 13:55:57)