Oswald Spengler - The decline of the west
Contains:
Volume I: Form and Actuality,
Volume II: Perspectives of World-History, and
Images of the fold-out errata of cultural lifespan models at the end of Volume I.
http://www.balderexlibris.com/index.php … f-the-west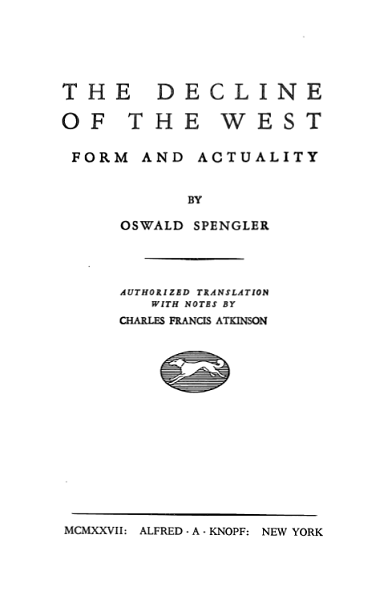 The Decline of the West (German: Der Untergang des Abendlandes), or The Downfall of the Occident, is a two-volume work by Oswald Spengler, the first volume of which was published in the summer of 1918. Spengler revised this volume in 1922 and published the second volume, subtitled Perspectives of World History, in 1923.
The book includes the idea of Muslims, Jews and Christians, as well as their Persian and Semitic forebears, being Magian; Mediterranean civilizations of the antiquity such as Ancient Greece and Rome being Apollonian; and the modern Westerners being Faustian. According to its theories, we are now living in the winter time of the Faustian civilization. His description of the Faustian civilization is one where the populace constantly strives for the unattainable—making Western Man a proud but tragic figure, for while he strives and creates he secretly knows the actual goal will never be reached.
Last edited by Dejuificator (24-10-2010 13:54:58)