50 Prosperity Classics.rar (165.13 MB)
Tom Butler-Bowdon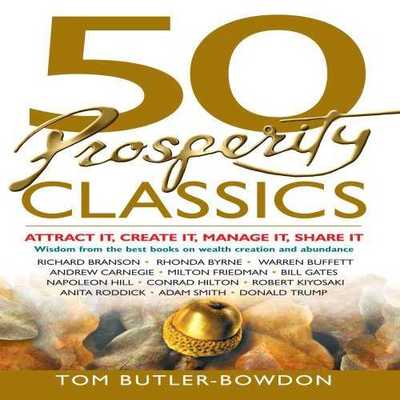 One of best books to read this summer on the sources of prosperity is 50 Prosperity Classics, an inspirational amalgamation of commentaries of the best books written on how to live an abundant life. It is a true jewel." -- The Harbus, May 5, 2008
A major new title from the author of the bestselling 50 Classics series, which has sold over 100,000 in the English language. 50 Prosperity Classics is the first book to highlight the landmark titles in this fast-expanding field, illustrated by the phenomenal success of The Secret. It focuses on the great works on wealth, entrepreneurship, personal finance, investing, economics and philanthropy, providing guidance and encouragement to develop the millionaire mindset, become a wealth creator, make wise investment decisions and - once you've made it - give a little back. Insightful commentaries on each classic, biographical information on the authors, plus a guide to further key titles provide a unique overview of this fascinating subject.
50 Prosperity Classics covers many of the great writings on wealth and abundance - encompassing books on the psychological aspects of creating wealth; more worldly titles on the nuts and bolts of personal finance, entrepreneurship and investing, and thought-provoking economics and political economy. 50 Prosperity Classics is about making your money and making it work for you, but it does not just show readers how to get rich, it also highlights why the creation of wealth can mean the fulfillment of personal potential and peace of mind. 50 Prosperity Classics gives concise summaries of each book's main points, their origins and what each can offer the reader on the path towards a life of abundance, organized according to four elements:
ATTRACT IT--Master the inner game of wealth and abundance with books such as Rhonda Byrne's bestselling The Secret, Charles Fillmore `s Prosperity, Napoleon Hill s The Master Key to Riches.
CREATE IT--Learn from the secrets and strategies of wealth creators such as Richard Branson, Bill Gates, Conrad Hilton, Anita Roddick and Donald Trump.
MANAGE IT--Discover the nuts and bolts of personal finance and investing such as Benjamin Graham's The Intelligent Investor, Suze Orman's Women and Money, Dave Ramsey's Financial Peace Revisited and Peter Lynch's One Up on Wall Street.
SHARE IT--Understand the flow of wealth and how to give something back with inspiration from Andrew Carnegie's The Gospel of Wealth, Paul Hawken's Natural Capitalism and Lynne Twist's The Soul of Money.
Last edited by Charognard (16-12-2010 13:32:58)