Das Land ohne Herz :
Eine Reise ins unbekannte Amerika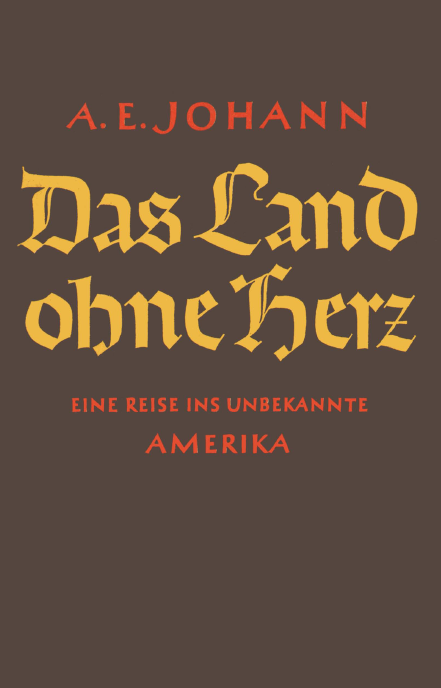 AE Johann - Das Land ohne Herz.pdf
http://www.pdfarchive.info/Jo/
______________________________________________________________________________
Land Without a Heart, by AE Johann
A German tours America in the late 1930's - after Germany elevated herself out of the Great Depression but before America got into WWI - and he writes about his experiences of the misery, poverty, corruption and suffering he sees.
Background: The following excerpts come from a book published in 1942. A. E. Johann, a pseudonym for Alfred Enst Wollschläger (1901-1996) was a widely published German writer whose books continued to appear well after the war. A dozen of his titles were still in print in 1997. The book cited here was a "hit": at least 126,000 copies were published in Germany, and a French translation appeared in 1944. He also had leading roles in several top German magazines.
The United States always fascinated Germans. It was the land of "unlimited possibilities," of the Wild West, of millionaires. The book attempts to demonstrate that, although the U.S. is a land of great beauty and decent people, it is a corrupt capitalist state rapidly becoming a racial mish-mash. Most of the book deals with Americans who Johann met, who invariably have come to a bad end. He discusses sharecroppers in Louisiana, a ruined farmer, a homeless man once of the middle class, a professor who loses his position because he fails to meet the desires of those behind the scenes, etc. In each case, the American system has brought a good man down. His opinion of the U.S. takes a marked improvement in titles published after 1945.
Last edited by Dejuificator (24-10-2010 17:36:04)