Category Conferences


Radio Melon - IRM : à la découverte de l'Alt Right Américaine

Avec Bellamy et Arnaud Lespingal


Facebook radio melon
Radio Melon - podcast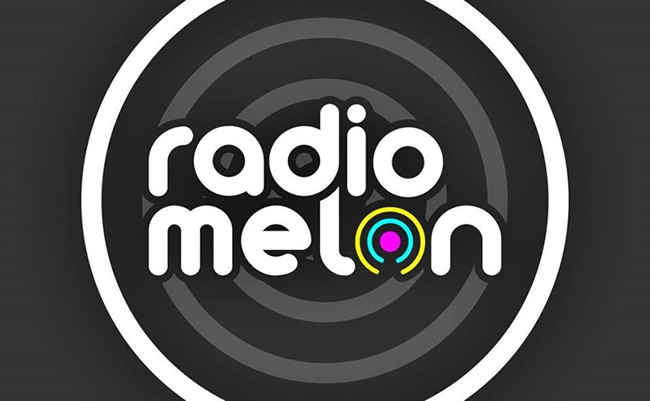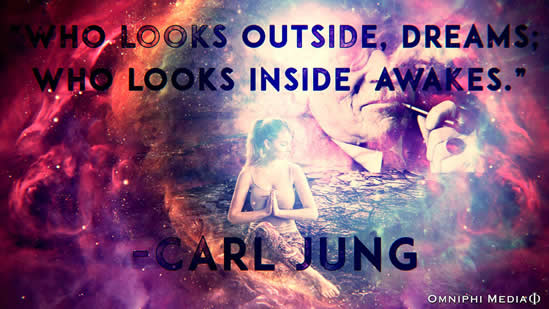 William Luther Pierce - L'Europe s'éveille
William Luther Pierce - Europe awake

L'Europe dans toute sa grâce et sa splendeur, où la grandeur et la gloire de notre civilisation blanche seront ressuscitées pour l'éternité.


C'est le problème avec nous les Hommes Blancs, nous nous sommes toujours battus, nous avons toujours résisté à la domination étrangère. Nous sommes une race de conquérants, d'inventeurs, de bâtisseurs, pas d'esclaves ou de glandeurs.
Nous nous sommes toujours battus pour un futur meilleur, au lieu de simplement se relaxer en laissant les autres nous dire ce qui est bon pour nous.
Un trait gênant, cette détermination d'être les maîtres de notre propre destinée. Cette détermination de vivre en accord avec nos valeurs innées. Et non celles des autres. Cette détermination de s'accrocher à nos traditions. Et à notre style de vie. Et de faire les choses à notre façon.
Ce trait gênant qui est le nôtre est vraiment un grand obstacle pour ceux qui veulent instaurer le Nouvel Ordre Mondial. Qui veulent juste qu'on se relaxe et qu'on ne se batte pas, pendant qu'ils nous métissent pour produire cet inoffensif mélange café au lait. Un mélange sans traditions "racistes" ou habitudes "racistes" ou ambitions "racistes" de créer notre propre destinée.
Donc, pourquoi n'acceptons-nous pas d'être métissés ? Pourquoi persistons-nous à vouloir rester une race de conquérants, inventeurs et bâtisseurs ? Une race d'explorateurs, une race de poètes, philosophes et rêveurs. Une race fière, une race indépendante, une race avec ses propres traditions. Au lieu de cette race de consommateurs café au lait soumis, placides et glandeurs, que ces gentils juifs des médias et ces gentils politiciens veulent que nous soyons. Et j'imagine que la meilleure réponse à cette question, et que nous sommes faits comme ça, c'est notre nature divine. Et nous voulons la conserver. En fait, nous sommes déterminés à la conserver. Et devant Dieu, nous enverrons tous ceux qui tenteront de nous l'enlever, tout droit en enfer !
William L. Pierce


Traduction et sous-titrage didi18

William Luther Pierce : PDF - Vidéos
The history of everything
Кто виноват в страданиях человечества
L'Esprit faustien
Sur le christianisme
La mesure de la grandeur
Le Judaïsme Talmudique
Why the Jews Are Hated
The Turner Diaries Audiobook
Conditioning for Death
Vision of a future world
Pensées sur le 4 juillet
Le port d'armes en Allemagne, 1928-1945
Toward a Healthy Society
Extraits du Manuel du membre de la National Alliance
Out of the Darkness
Les Carnets de Turner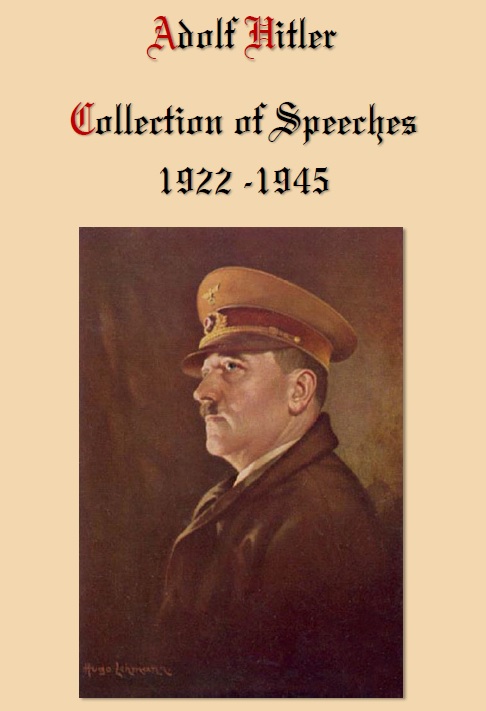 Adolf Hitler - Collection of speeches 1922-1945


Contents :
1922.04.12 - Adolf Hitler - speech in Munich
1922.07.28 - Adolf Hitler - speech in Munich
1922.09.18 - Adolf Hitler - speech in Munich

1923.04.10 - Adolf Hitler - speech in Munich
1923.04.13 - Adolf Hitler - speech in Munich
1923.04.24 - Adolf Hitler - speech in Munich
1923.04.27 - Adolf Hitler - speech in Munich
1923.05.01 - Adolf Hitler - speech in Munich
1923.05.04 - Adolf Hitler - speech in Munich
1923.08.01 - Adolf Hitler - speech in Munich
1923.09.12 - Adolf Hitler - speech in Munich

1924.02.26 - Adolf Hitler - speech in Munich
1924.03.27 - Adolf Hitler - speech in Munich

1927.01.18 - Adolf Hitler - speech in Schleiz, Thuringia
1927.08.21 - Adolf Hitler - speech at Nuremberg

1930.09.16 - Adolf Hitler - speech in Munich

1932.01.01 - New Year's Proclamation to the Party
1932.01.27 - Adolf Hitler addressed the Industry Club in Düsseldorf

1933.01.01 - New Year's Proclamation to the Party 1933.01.30 - Adolf Hitler - proclamation
1933.02.01 - Adolf Hitler - announcement and proclamation to the NSDAP
1933.02.01 - Adolf Hitler - speech in Berlin
1933.02.01 - The first radio-broadcast of Adolf Hitler
1933.03.23 - Adolf Hitler - policy statement on the Enabling Act
1933.03.23 - Speech duel between Adolf Hitler and Otto Wels
1933.05.01 - Adolf Hitler - speech in Lustgarten, Berlin
1933.05.17 - Adolf Hitler - speech to the Reichstag
1933.09.01.03 - Adolf Hitler - excerptions of speeches at the Party Congress in Nuremberg
1933.09.13 - Adolf Hitler - speech about Winterhilfe
1933.10.14 - Adolf Hitler - radio broadcast
1933.11.08 - Adolf Hitler - speeches honouring the 10.anniversary of 1923

1934.01.01 - New Year's Proclamation to the Party
1934.01.27 - Adolf Hitler - interview for the writer Hanns Johst
1934.01.30 - Adolf Hitler - Speech to the Reichstag
1934.02.18 - Ward Price - interview with Adolf Hitler
1934.02.24 - Adolf Hitler - speech in Festsaal of the Hofbräuhaus
1934.04.04 - Adolf Hitler - interview for Associated Press
1934.05.01 - Adolf Hitler - speech at a youth rally in Lustgarten
1934.06.17 - Adolf Hitler - speech in Gera
1934.07.13 - Adolf Hitler - Speech to the Reichstag
1934.08.05 - Ward Price - interview with Adolf Hitler
1934.08.07 - Adolf Hitler - speech at Hindenburg's funeral in Tannenberg Monument
1934.08.17 - Adolf Hitler - speech in Hamburg at the Blohm and Voss shipyard
1934.08.20 - Adolf Hitler - appeal to the German Volk and the NSDAP
1934.09.05 - Adolf Hitler - proclamation
1934.09.06 - Adolf Hitler - speech to the DAF and RAD
1934.09.07 - Adolf Hitler - speech before 200 000 political leaders
1934.09.09 - Adolf Hitler - speech before the SA and the SS
1934.10.09 - Adolf Hitler - at the opening of the second Winterhilfswerk
1934.11.08 - Adolf Hitler - speech at the Burgerbräukeller
1934.11.09 - Adolf Hitler - speech at Feldherrnhalle

1935.01.01 - New Year's Proclamation to the Party
1935.01.15 - Adolf Hitler - speech on radio
1935.01.16 - Adolf Hitler - interview to Pierre Huss
1935.01.17 - Adolf Hitler - interview with Ward Price
1935.01.30 - Adolf Hitler - address to the Reichstag
1935.03.01 - Adolf Hitler - speech in Saarbrücken
1935.03.16 - Adolf Hitler - Proclamation to the German Folk
1935.05.01 - Adolf Hitler - speech at the Tempelhofer Feld
1935.05.21 - Adolf Hitler - speech at the Reichstag
1935.09.11 - Adolf Hitler - proclamation
1935.09.11 - Adolf Hitler - speech at NSDAP congress hall in Nuremberg
1935.09.12 - Adolf Hitler - speech before the DAF and the RAD
1935.09.13 - Adolf Hitler - address to 100,000 Political Leaders
1935.09.14 - Adolf Hitler - speeches speech before 54,000 members of the Hitler Youth in the Nuremberg stadium
1935.09.15 - Adolf Hitler - speech before the SA and the SS
1935.09.15 - Adolf Hitler - speech to the Reichstag
1935.09.16 - Adolf Hitler - closing speech at the NSDAP congress in Nuremberg
1935.09.16 - Adolf Hitler - speech for the Wehrmacht Day
1935.10.06 - Adolf Hitler - speech at Erntedankfest (Thanksgiving)
1935.10.08 - Adolf Hitler - opening speech at the third Winterhilfswerk
1935.11.08 - Adolf Hitler - speech at the Burgerbräukeller

1936.01.01 - New Year's Proclamation to the Party
1936.01.30 - Adolf Hitler - speech in the Berlin Lustgarten
1936.02.12 - Adolf Hitler - speech in Schwerin
1936.02.15 - Adolf Hitler - speech to the German automobile industry
1936.02.24 - Adolf Hitler - speech at the Hofbräuhaus in Munich
1936.03.07 - Adolf Hitler - speech to the Reichstag
1936.03.09 - Ward Price - interview with Adolf Hitler
1936.03.12 - Adolf Hitler - speech in Karlsruhe
1936.03.20 - Adolf Hitler - speech in Hamburg
1936.03.22 - Adolf Hitler - speech in Breslau
1936.03.24 - Adolf Hitler - campaign speech in Berlin
1936.03.27 - Adolf Hitler - campaign speech in Essen
1936.03.28 - Adolf Hitler - speech in Cologne
1936.05.01 - Adolf Hitler - speech in the Lustgarten
1936.07.03 - Adolf Hitler - speech in Weimar
1936.08.01 - Adolf Hitler - addresses the Olympic commitee
1936.09.08 - Adolf Hitler - speech in Nuremberg City Hall
1936.09.09 - Adolf Hitler - speech at the Culture Convention
1936.09.10 - Adolf Hitler - speech to the Labor Service
1936.09.11 - Adolf Hitler - appeal to the Political Leaders of Germany
1936.09.12 - Adolf Hitler - speech to the German Labor Front
1936.09.12 - Adolf Hitler - speech to the Hitler Youth
1936.09.13 - Adolf Hitler - speech to SA and SS
1936.09.14 - Adolf Hitler - final speech at the Party Congress
1936.09.14 - Adolf Hitler - speech on the Wehrmacht Day
1936.10.04 - Adolf Hitler - declaration on the Buckeberg
1936.10.06 - Adolf Hitler - speech in Berlin
1936.11.08 - Adolf Hitler - speech at the Burgerbräukeller

1937.01.01 - New Year's Proclamation to the Party
1937.01.30 - Adolf Hitler - Speech to the Reichstag
1937.05.01 - Adolf Hitler - speech in the Lustgarten
1937.06.06 - Adolf Hitler - speech in Regensburg
1937.06.27 - Adolf Hitler - speech in Wurzburg
1937.07.19 - Adolf Hitler - speech in Munich
1937.07.31 - Adolf Hitler - speech in Breslau
1937.09.06 - Adolf Hitler - proclamation
1937.09.07 - Adolf Hitler - speech about the culture
1937.09.08 - Adolf Hitler - speech to the Labor Service
1937.09.10 - Adolf Hitler - speechl to the Political Leaders of Germany
1937.09.10 - Adolf Hitler - speech to the German police
1937.09.10 - Adolf Hitler - speech to the German women
1937.09.11 - Adolf Hitler - speech to the German Labor Front
1937.09.11 - Adolf Hitler - speech to the Hitler Youth
1937.09.12 - Adolf Hitler - speech to SA,SS&NSKK
1937.09.13 - Adolf Hitler - closing speech at the NSDAP congress in Nuremberg
1937.09.13 - Adolf Hitler - speech to the Wehrmacht
1937.09.26 - Adolf Hitler - addressed Benito Mussolini
1937.09.28 - Adolf Hitler - speech at Tempelhofer Feld
1937.10.03 - Adolf Hitler - speech at Erntedankfest (Thanksgiving)
1937.10.05 - Adolf Hitler - opening speech at the new Winterhilfswerk
1937.11.08 - Adolf Hitler - speech at the Burgerbräukeller
1937.11.20 - Adolf Hitler - speech to the Old Guard in Munich
1937.11.22 - Adolf Hitler - speech in the Ordensburg Sonthofen
1937.11.27 - Adolf Hitler - speech at the Technical University in Berlin
1937.12.12 - Adolf Hitler - an official statement

1938.01.01 - New Year's Proclamation to the Party
1938.01.22 - Adolf Hitler - speech in Munich
1938.02.20 - Adolf Hitler - great speech before the Reichstag
1938.03.12 - Adolf Hitler - proclamation for the Anschluss
1938.03.15 - Adolf Hitler proclaims the liberation of Austria
1938.03.18 - Adolf Hitler - speech before the Reichstag
1938.03.25 - Adolf Hitler - speech in Konigsberg
1938.04.09 - Adolf Hitler - speech in Vienna
1938.05.01 - Adolf Hitler - two speeches
1938.05.03 - Adolf Hitler - address to 6,500 Germans living abroad
1938.05.22 - Adolf Hitler - speech at the opening ceremonies for work
1938.05.26 - Adolf Hitler - VW speech
1938.05.30 - Adolf Hitler - The Plan Green
1938.06.14 - Adolf Hitler - speech in Berlin
1938.07.10 - Adolf Hitler - speech at the Great Exhibition of German Art in Munich
1938.09.06 - Adolf Hitler - proclamation
1938.09.06 - Adolf Hitler - speech at the Culture Convention
1938.09.09,10&11 - Adolf Hitler - three speeches
1938.09.12 - Adolf Hitler - closing speech
1938.09.12 - Adolf Hitler - speech on the Wehrmacht Day
1938.09.17 - Ward Price - interview with Adolf Hitler
1938.09.23 - Adolf Hitler - letter in response to Chamberlain
1938.09.23 - Adolf Hitler - paper of September 23, 1938
1938.09.26 - Adolf Hitler - speech in Sportpalast
1938.09.27 - Adolf Hitler - reply to Chamberlain
1938.09.27 - Adolf Hitler - reply to F.D.Roosevelt
1938.10.01 - Adolf Hitler - decree
1938.10.03 - Adolf Hitler - speech at Eger
1938.10.04 - Adolf Hitler - speech in Karlsbad
1938.10.05 - Adolf Hitler - opening speech at the new Winterhilfswerk
1938.10.09 - Adolf Hitler - speech in Saarbrucken
1938.10.20 - Adolf Hitler - speech in Krumau
1938.11.06 - Adolf Hitler - speech in Weimar
1938.11.08 - Adolf Hitler - speech at the Burgerbräukeller
1938.11.10 - Adolf Hitler - speech in Führerbau
1938.12.02 - Adolf Hitler - speech at Reichenberg
1938.12.06 - Adolf Hitler - speech in Munich

1939.01.01 - New Year's Proclamation to the Party
1939.01.09 - The Reich Chancellery - essay by Adolf Hitler
1939.01.30 - Adolf Hitler - address to the Reichstag
1939.02.14 - Adolf Hitler - speech in Hamburg
1939.02.17 - Adolf Hitler - speech in Berlin
1939.02.24 - Adolf Hitler - speech at the Hofbräuhaus in Munich
1939.03.15 - Adolf Hitler - Proclamation to the German Volk
1939.03.23 - Adolf Hitler - speech in Memel
1939.04.01 - Adolf Hitler - speech in Wilhelmshaven
1939.04.28 - Adolf Hitler - speech before the Reichstag
1939.05.01 - Adolf Hitler - two speeches
1939.06.04 - Adolf Hitler - speech at the Reichs Veterans Day in Kassel
1939.06.06 - Adolf Hitler - speech to Legion Condor soldiers in Lustgarten
1939.07.16 - Adolf Hitler - speech at the Day of the German Art
1939.08.22 - Adolf Hitler - speech before his generals
1939.09.01 - Adolf Hitler - proclamation to the German Wehrmacht
1939.09.01 - Adolf Hitler - speech to the German Reichstag
1939.09.03 - Adolf Hitler - Four Appeals
1939.09.19 - Adolf Hitler - speech in Danzig
1939.10.06 - Adolf Hitler - speech before the Reichstag
1939.10.10 - Adolf Hitler - opening speech at the new Winterhilfswerk
1939.11.08 - Adolf Hitler - speech at the Burgerbräukeller
1939.11.23 - Adolf Hitler - speech to the OKW
1939.12.07 - Adolf Hitler - Germany and the Finnish Question

1940.01.01 - New Year's Proclamation to the Party and the Wehrmacht
1940.01.30 - Adolf Hitler - speech in the Sportpalast
1940.02.24 - Adolf Hitler - speech in Munich for the 20-th anniversary of the NSDAP
1940.03.10 - Adolf Hitler - speech in the Berlin Zeughaus
1940.05.03 - Adolf Hitler - speech in the Berlin Sportpalast
1940.05.10 - Adolf Hitler - Proclamation to the Soldiers of the Western Front
1940.07.19 - Adolf Hitler - speech to the Reichstag
1940.09.04 - Adolf Hitler - speech at the Berlin Sportpalast on the opening of the Kriegswinterhilfswerk
1940.11.09 - Adolf Hitler - speech in the Löwenbräukeller
1940.12.10 - Adolf Hitler - speech to the workers of a Berlin
1940.12.18 - Adolf Hitler - speech at the Berlin Sportpalast

1941.01.01 - New Year's Proclamation to the Party and the Wehrmacht
1941.01.30 - Adolf Hitler - speech in the Sportpalast
1941.02.24 - Adolf Hitler - speech in Munich
1941.03.16 - Adolf Hitler - speech in Berlin
1941.04.18 - Adolf Hitler - appeal for the Second Kriegswinterhilfswerk
1941.05.04 - Adolf Hitler - Speech to the Reichstag
1941.06.22 - Adolf Hitler - proclamation to the German folk
1941.10.02 - Adolf Hitler - proclamation to the soldiers of the Eastern Front
1941.10.03 - Adolf Hitler - speech in Berlin Sportpalast
1941.11.09 - Adolf Hitler - speech in the Löwenbräukeller
1941.12.11 - Adolf Hitler - speech to the Reichstag - The German Reich declares war on the U.S.A.
1941.12.20 - Adolf Hitler - appeal to the German folk

1942.01.01 - New Year's Proclamation to the Party and the Wehrmacht
1942.01.30 - Adolf Hitler - speech in the Sportpalast
1942.02.12 - Adolf Hitler - speech in honour of Fritz Todt
1942.02.24 - Adolf Hitler - proclamation for the 22-nd anniversary of the NSDAP - read by Gauleiter Wagner
1942.03.15 - Adolf Hitler - speech in Berlin for Heroes' Memorial Day
1942.04.26 - Adolf Hitler - speech to the Reichstag
1942.09.30 - Adolf Hitler - speech in the Sportpalast
1942.11.09 - Adolf Hitler - speech in the Löwenbräukeller
1942.11.11 - Adolf Hitler - appeal to the French people
1942.11.26 - Adolf Hitler - letter to Marshal Petain

1943.01.01 - New Year's Proclamation to the Party and the Wehrmacht
1943.01.30 - Adolf Hitler - proclamation
1943.02.24 - Adolf Hitler - proclamation
1943.03.21 - Adolf Hitler - speech in Berlin
1943.05.07 - Adolf Hitler - speech at the funeral ceremony for Viktor Lutze
1943.05.10 - Adolf Hitler - appeal for the fourth Kriegswinterhilfswerk
1943.09.10 - Adolf Hitler - speech to the German Folk
1943.11.09 - Adolf Hitler - speech in the Löwenbräukeller

1944.01.01 - New Year's Proclamation to the Party and the Wehrmacht
1944.01.30 - Adolf Hitler - radio-broadcasted speech to the German Folk
1944.03.19 - Adolf Hitler - interview for a Swedish newspaper
1944.07.01 - Adolf Hitler - speech on Generaloberst Dietl's dead
1944.07.04 - Adolf Hitler - speech at the Platterhof
1944.07.20 - Adolf Hitler - radio address to the German Folk
1944.10.08 - Adolf Hitler - telegram to the Hitler Youth
1944.11.12 - Adolf Hitler - proclamation to the German Folk
1944.12.28 - Adolf Hitler - speech at Ziegenberg headquarters

1945.01.01 - New Year's Proclamation to the Party and the Wehrmacht
1945.01.30 - Adolf Hitler - radio address to the German Folk
1945.02.24 - Adolf Hitler - proclamation to the German Folk
1945.03.11 - Adolf Hitler - proclamation to the German Wehrmacht
1945.04.13 - Adolf Hitler - order to the German Wehrmacht
1945.04.13 - Adolf Hitler - proclamation to the soldiers on the Eastern Front
1945.04.29 - Adolf Hitler - Private Testament
1945.04.29.The marriage license of Adolf Hitler and Eva Hitler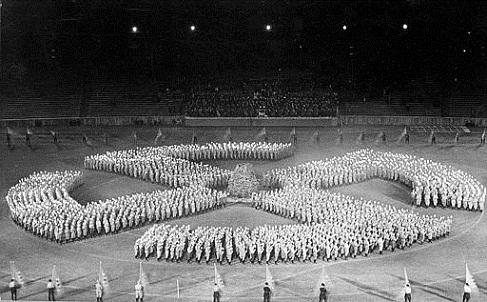 Adolf Hitler - Mein Kampf
Adolf Hitler - Videos
Adolf Hitler - PDF
Third Reich - PDF
Adolf Hitler - Hitler Speeches and Proclamations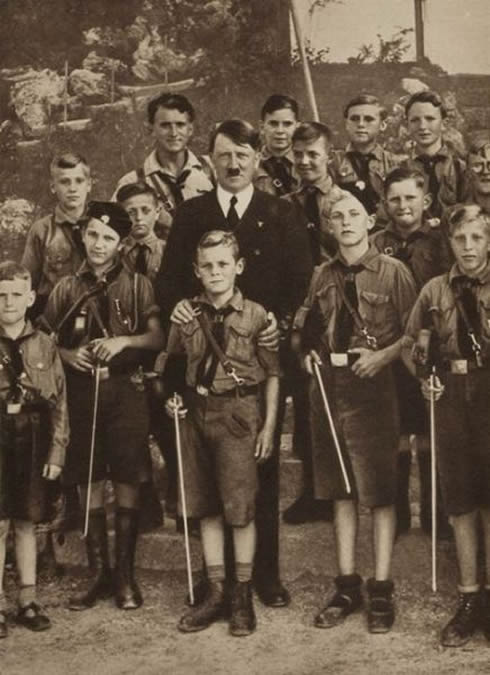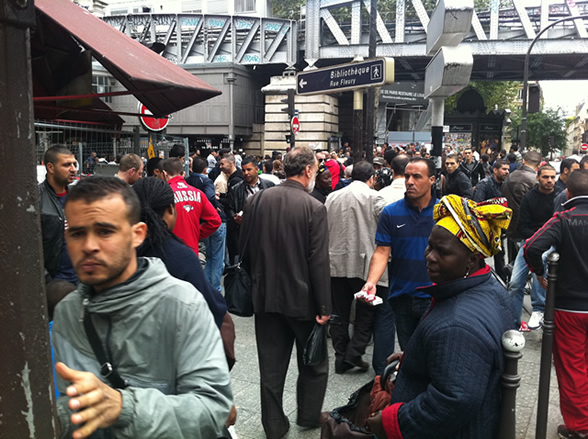 Pour qui nous battons-nous ?


Mes très chers camarades de lutte, mes très chers frères guerriers de lumière. Laissez-moi pour introduire mon propos, vous compter un événement de ma vie de militant qui transformera à jamais ma façon d'aborder la lutte pour la survie de notre race.

Pour qui et pour quoi nous battons-nous ?
Il y a de cela une dizaine d'années, lorsque mes poings sentaient les os d'un crane se briser sous mes coups au moins une fois par semaine, par une belle après-midi ensoleillée d'un samedi de fin de printemps, j'attendais avec quelques camarades le passage d'un groupe d'antifascistes sur une place d'une ville du sud de la France.
Antifascistes que nous ne croiserons jamais, ils étaient tous terrés chez eux ayant eûs écho de notre présence en ville.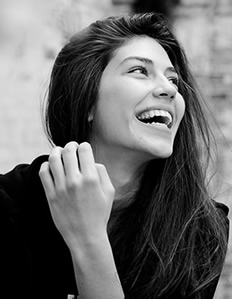 Après une heure d'attente, à scruter les moindres faits et gestes de toutes les personnes qui passaient sur la place, nous fumes soudainement éblouies, subjugués par la beauté de deux anges. Deux françaises pure race sublimes, qui n'avaient pas encore la vingtaine, issue de bonne famille, habillées BCBG, venues passer le samedi soir en centre ville avec leurs copains. Elles devaient très probablement vivre dans un village de riches aux alentours de la ville. Le genre de petites merveilles à qui l'on donne le bon Dieu sans confession. Dotées de cette élégance et prestance toute française qui se fait si rare aujourd'hui. Haut niveau de culture, d'éducation, d'élocution, etc... Des jeunes femmes françaises du plus haut niveau avec qui l'on pourrait rapidement et sans hésitation fonder un foyer...


Après deux minutes d'attente des jeunes filles aux abords d'une des fontaine de la place, un maghrébin qui les avait repéré depuis le balcon de son appartement descendis se présenter. Cet homme était l'archétype du bougnoule putride marseillais. Pantalon de sport, mentaux en cuir, air max, cheveux gras plaqués en arrière, chevalière en or, dents manquantes, ongles noircis de trois semaines, cigarette sur l'oreille, œil vitreux d'alcoolique, la quarantaine. C'était ce type de bougnoule putride si dégueulasse que son existence justifie à elle seule l'extermination de toute les populations d'Afrique du Nord et du Moyen-Orient, et de tout ceux qui en sont issus de près où de loin.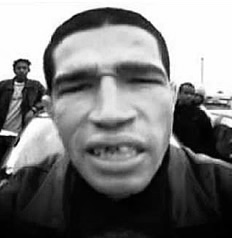 Après une minute de salamalecs et gesticulations animales, le bougnoule remonta dans son appartement avec les deux jeunes françaises. Cinq minutes après trois autres bougnoules tous plus dégueulasses les uns que les autres arrivaient au bas de l'immeuble au pas de course et montaient dans l'appartement. 45 minutes plus tard les deux françaises ressortaient dans la rue encore dégoulinantes de sueur et mal rhabillées. Les 4 bougnoules les regardèrent goguenards depuis le balcon, bières à la main et joins aux lèvres, aller rejoindre leurs petits copains qui les attendaient sagement dans un restaurant du bas de la place.




Cette anecdote se suffit à elle-même, il n'est pas nécessaire de développer sur les sacrifices christiques qui ont fait de vous se que vous êtes et la distorsion spatio-temporelle qui vous sépare des français; les tortures en garde à vue, le vol du peu de ce que vous possédez par les corps constitués du gouvernement. Les viols commandités de vos proches par les services de l'état, les tentatives de meurtres répétées, les dizaines de camarades laissés pour mort entre deux poubelles par des policiers ayant besoin d'une promotion, etc.
Pendant ce temps là, celles qui seraient censées être un jour nos épouses se prostituent gratuitement et automatiquement au premier maghrébin ou nègre qui viennent les solliciter, et se quelque soit le milieu social et culture dont elles sont issues ou l'éducation qu'elles ont reçues. Les françaises et les français en général sont totalement dénuées de conscience racial et ont des mœurs trop dégénérées pour pouvoir faire machine arrière. Le pays ira au bout de sa logique de destruction.
Il n'est pas nécessaire de parler en détail de toutes ces françaises qui font élever des enfants à leurs maris qui ne sont pas d'eux, l'un des taux les plus élevé au monde avec les USA. De ces françaises qui se lèvent à quatre heure du matin réveillées par des textos pour aller se faire sodomiser par des nègres dans une petite rue sur la banquette arrière d'une voiture, puis qui remontent chez elles la capsule annale pleine de foutre faire un bisou à leur enfant en bas âge et se recoucher auprès de leurs maris qui se lèveront deux heures plus tard subir des travaux d'esclaves qui leurs permettent tout juste de faire survivre leurs familles; etc, etc, etc...
Malheureusement les hommes des milieux militants français ne sont pas épargnés, bien au contraire. Combien d'ex putes à nègres reconverties dans le nationalisme ? Elles se créent des personnages et font illusion totale auprès d'hommes désespérés qui ont tout sacrifié pour la survie de notre race, qui se retrouvent seuls, près à toutes les soumissions pour avoir une française, ces ex putes à nègres sont alors accueillies à bras ouverts.

Quel avenir pour notre race dans un pays où les femmes nées après 1980 vivent dans un film pornographique où les acteurs masculins sont des négros et des bougnoules ?
Pour qui, et pour quoi vous battez-vous ?

Les seuls qui tirent bénéfice de cette situation, de vos souffrances, de vos sacrifices... sont les fins de races de cette extrême droite qui a tout ratée, cachée dans ses tours d'ivoires. Ils rigolent de vous, attendent vos bulletins de vote en mangeant des petits fours et en buvant du champagne. Ils écrivent des livres sur vos souffrances et vous les vendent, ils s'affichent sur Youtube dans des discussions interminables où ils se demandent quand le "peuple français" va finir par se réveiller pour enfin sauver leurs intérêts de classe/caste. Qu'ont-ils jamais fait à part organiser des manifestations grotesques et des conférences inutiles ?
Que connaissent-ils de la France d'aujourd'hui ? Ces sacs à paroles pourraient vous tenir pendant des heures à vous expliquer qu'il faut que coûte que coûte vous ne lâchiez jamais le combat... mais le combat pour qui ? Pour quoi ?
La seule chose qu'il vaille la peine d'être sauvé en France c'est vous-même, rien d'autre.


La France ne mérite pas l'élite spirituelle et chevaleresque que vous constituez. Pour que votre pureté d'âme et raciale puisse s'épanouir il vous faut aller vers des contrées où les peuples sont sains. Le catholicisme à peu à peu ancré dans l'esprit des français que tout les hommes se valaient, pré-conditionnant les différents peuples qui constituaient la France à accueillir tout se qui leurs étaient étranger et hostile. Cette notion d'égalité est totalement absente des peuples d'Europe de l'Est. Il est inconcevable pour une macédonienne ou lituanienne de simplement parler avec un nègre. Pour elles, les scènes de la vie quotidienne française relèvent du pire des cauchemars.

A quelques heures de voiture à l'est de la France, des peuples fiers de leur race, qui depuis plus de 4000 ans n'ont jamais cessés le combat contre les envahisseurs du tiers-monde. Des femmes qui lorsqu'à trente ans sont seules, n'ont fréquentées qu'un ou deux hommes, se préservent pour un hypothétique futur mari avec qui fonder un foyer. Des pays où la capacité de travail, la volonté et l'intelligence d'un homme sont valorisées et où le fruit du labeur du travailleur n'est pas automatiquement confisqué par l'Etat pour être redistribué à des parasites.


Abandonnez vos certitudes quelques semaines et allez voir par vous-même...
Ou bien disparaissez en silence, dans l'anonymat, la souffrance et la solitude.

Quia suam uxorem etiam suspiciore vacare vellet



Par le vénérable Professeur Z,
septembre 2015 à Gore en Nouvelle-Zélande pour la Lettre Heuristique.


Thompson - Dolazak Hrvata - English subtitles



A lire également :

Tu pues la France
Précisions sur le "mouvement skinhead"
La France a perdue sa guerre civile
Sur les traces du véritable Führer, Vlad Tepes
Message aux jeunes Aryens de France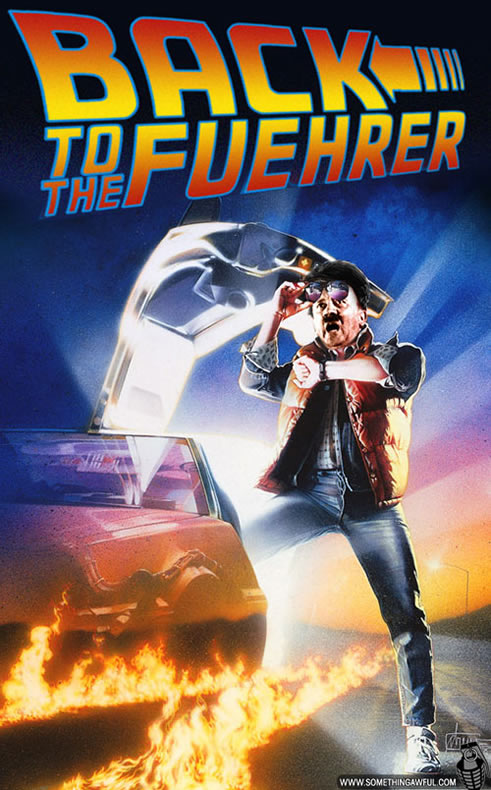 Adolf Hitler - Mein Kampf
Mon Combat - Version anglaise - Version originale allemande - Version italienne
Version espagnol - Version polonaise - Version portugaise - Version serbe
Version roumaine - Version néerlandaise - Version hongroise - Version bosniaque

Le livre qui a changé la face du monde






E-books d'Adolf Hitler au format PDF : Page 1 - Page 2 - Page 3
Détails des ouvrages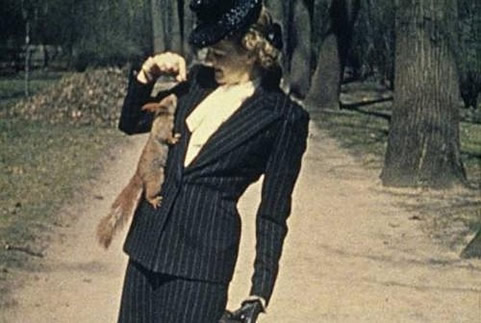 Adolf Hitler - Discours et proclamations
Adolf Hitler - Mein Kampf - Audios
Adolf Hitler - Hitler Speeches and Proclamations
Adolf Hitler - Discours en faveur du Secours d'Hiver
Hitler's Victory - A Final Appeal For Peace and Sanity
Adolf Hitler - VOSTFR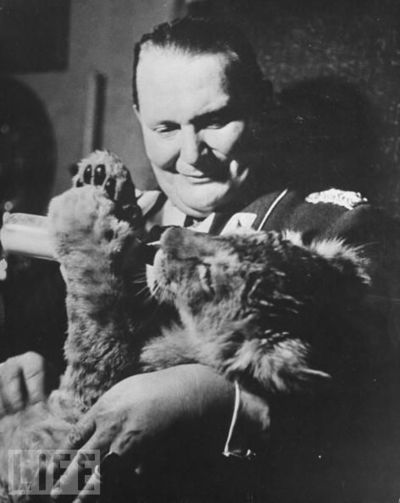 Adolf le Grand diffamé par des "nationalistes"
Léon Degrelle - Le fascinant Hitler
Léon Degrelle - How Hitler consolidated power in Germany and launched a social revolution
Léon Degrelle - Hitler, Born at Versailles
Léon Degrelle - Le Pardo
Heinrich Himmler - La SS Organisation de combat anti-bolchevique
Julius Streicher - Sans solution de la question juive Aucune liberation du peuple allemand !
Dr. William Pierce - Le port d'armes en Allemagne, 1928-1945
Joseph Göbbels
George Lincoln Rockwell
Von Ribbentrop Joachim - La lutte de l'Europe pour sa liberté
Grimm Frédéric - Hitler et la France
Savitri Devi - Souvenirs et réflexions d'une aryenne
Jacques Benoist Méchin - Éclaircissements sur Mein Kampf d'Adolf Hitler
The nazi primer
Légende de l'Atlantide - VOSTFR
Dr. Joseph Goebbels - Heinrich Hoffmann - Adolf Hitler, A Chilling Tale of Propaganda
Feder Gottfried - The programme of the NSDAP
James Larratt Battersby
Colin Jordan - Hitler was right !
Miguel Serrano - Adolf Hitler The Ultimate Avatar
Oswald Mosley
William Joyce - Twilight over England
Introduction à la thèse révisionniste - Ernst Zündel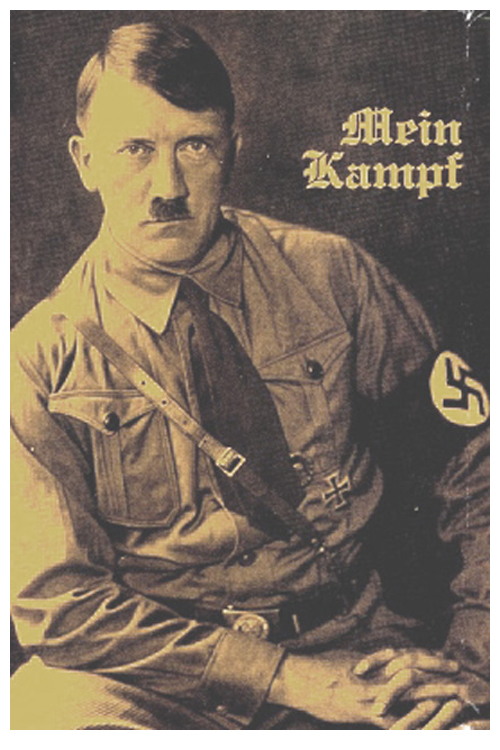 Voici le National Socialisme :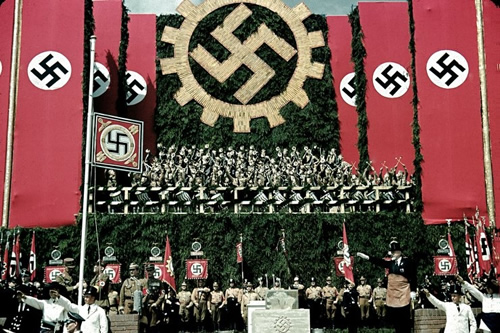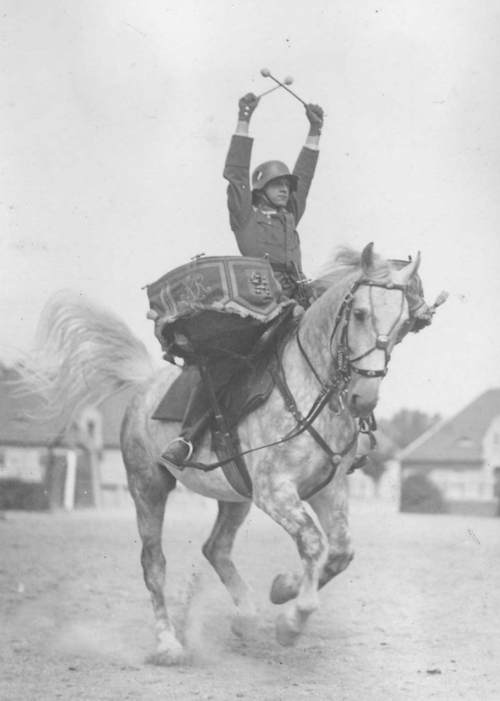 La guerre secrète contre les peuples – Claire Séverac - PDF
Paris le 19 septembre 2015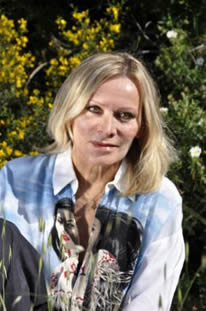 On nous dit que ce sont de simples avions de ligne… Dormez bien, braves gens, il ne se passe rien ! De ces traînées blanches laissées par des avions qui pulvérisent sur nos têtes des produits toxiques, transformant nos beaux ciels bleus en plafonds laiteux, au programme Haarp, officiellement destiné à permettre les communications longue distance, mais qui sert à bien d'autres fins… on nous ment sur tout. Le temps qui se détraque, les catastrophes météorologiques à répétition, dus au CO2 vraiment ? Des documents déclassifiés de l'armée, des experts repentis, des scientifiques intègres parlent, eux, de guerre climatique. Quelles meilleures armes que celles qui se dissimulent sous des phénomènes naturels !

Beaucoup d'entre nous ont entendu parler des diverses expériences de la CIA, toutes plus horrifiantes les unes que les autres. Mais combien savent qu'elles touchent le commun des mortels, que nous sommes tous victimes des armes bactériologiques, des implants, des nanoparticules, des mutations génétiques, des manipulations mentales, exposés aux perspectives terrifiantes ouvertes par le transhumanisme et l'eugénisme qui sont le but de nos élites ? Si nous ne nous y opposons pas, demain, ces nouvelles technologies au service des puissants feront de nous au mieux des pions, au pire des esclaves.

Plus ou moins tenus secrets, ces projets revêtent tous un alibi humanitaire : la faim dans le monde, le réchauffement climatique, la santé, l'écologie, la sécurité… En réalité, ils obéissent tous au plan d'une oligarchie qui n'a plus besoin de toutes « ces bouches inutiles », comme ses membres nous appellent en privé, et qui se donne ouvertement comme objectif de réduire l'humanité à 500 millions d'individus. Le plus grand génocide de l'histoire est en marche dans la désinformation la plus totale.

Pendant trois ans, Claire Séverac a mené l'enquête autour de ces questions inquiétantes pour l'avenir de l'Homme. Elle a décrypté pour nous des centaines de documents, recoupé des discours, fouillé dans les archives et les sites d'organisations internationales, d'ONG ou encore d'institutions gouvernementales. Elle a accumulé les témoignages et les preuves pour les livrer ici à notre jugement. Afin que chacun réagisse avant qu'il ne soit trop tard.


Chemtrail - PDF


Chemtrails La guerre secrète - version française



La Guerre secrète contre les peuples – Conférence de Claire Séverac à Strasbourg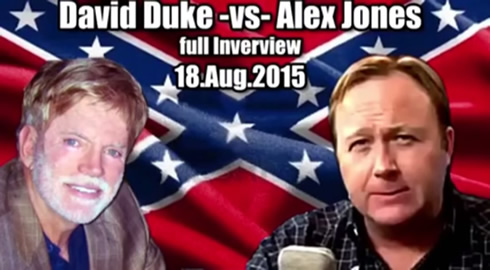 David Duke débat avec Alex Jones - VOSTFR
18 aout 2015 - Entrevue complète


David Duke - Aldebaran Video
David Duke - PDF
Davidduke.com




Odalfolk - Our chance for power
Odalfolk.com


Hail.

There are a lot of people who choose to go the political route in this day and age. But is that right ? I will try to explain it to you now, and I hope for your sake that you understand. At this point it is pretty clear to many that the West will see a great upheaval, even independent from great natural catastrophes and nuclear threat. The immigration to virtually any higher standing white nations mean that there are millions of non-whites in most white countries, with examples like the UK, France, Germany, Austria, the Netherlands, Spain, Italy, Greece, Sweden, Denmark, The United States, Canada and Australia and so forth being among the worst.

The burden on the largely socialist systems in these nations is simply too great, what with the higher needs for social security, healthcare costs and criminality that a large non-white populations bring. These states or most of them will eventually topple over, unless something drastic is done. In most cases, reform will not be enough. The immigrants that are already inside the country and breeding like there was no tomorrow would be quite enough to bring the social security net, public healthcare, public transportation and virtually all other perks that we have built up on public funding to a screeching halt. Just segregation, like the United States have had for a long time, will never be enough. Especially if you add the volatile influence of Islam to the mix, which is an ever-present threat especially in Europe. There will be war, almost no matter what happens. It is highly unlikely that our side starts anything, but we must sure as hell finish it if we wish that there will be a tomorrow for us at all on this earth.

So, why not the political route? Simply because it will never be enough. Negroes do not understand our disgust and our moving away from them, they will take what they can get and them not being welcome and all our social indications thereof will run off them like water on a goose. They will not go home voluntarily. Arabs are too hell-bent on conquering us in the name of Islam. The Jews who run "our" newspapers, TV-channels, publishers, movie studios, banks and global corporations are too entitled to the fruit of our labor, and they will never understand how to coexist constructively and that ours is not theirs to take. They will never accept that all of our things are not there for them to steal, but actually ours by right. The Asians similarly also only care about their own and would calmly and logically conquer and replace us if it was to their advantage or could be done easily. War will come, because it is such a volatile mix of dangerous factors that it can hardly do anything else than break down into a state of pure chaos. Political reform or not, nothing we could do in the way of politics would be enough. Anything that would be is not going to be allowed by the powers that be, like the Golden Dawn in Greece.

What can we do, then ? Many nations in history either had their beginning out of enclaves or settlements, either by holding and defending a piece of land and people and then enlarging it in the midst of chaos, with those who seek stability and strength or out of nothing in the midst of wilderness, long ago. It can also begin with a group of people who in the midst of chaos grow into an army and then stakes a claim to land. We are not against law and order, these things are good for us in the preparation stage. We want a stable society that leaves us in peace to have large families who till the land. The future set for Europe will not allow that to go on forever, however. The old order will break down and it will require us to defend what is ours. The current governments will most likely be the first victims of their own monstrous creations, and in the absence of order we must create it if we want to survive. If we manage to build ourselves into functioning groups and settlements that are as ready for the collapse as anyone can ever be, then we will be able to grow into a future power factor. Even if only a few people are interested now, if we can prepare to enlarge our groups into hundreds and thousands locally, when the collapse has begun, we will also have those thousands of people to build with, to fight with and to create a completely new order out of chaos. This is what we are here for. This is our chance to build a new people, and a new nation.

It largely comes down to method. Many people mix mainstream politics with survival and try to do everything at once, failing at everything. You cannot play the political game on the pro-white side and simultaneously expect to be able to make the necessary financial headway that is needed to create local power factors for the future. Just be normal, work, start businesses, learn survival skills, gather in collectives to get financial breathing room, work some more, save money, buy land, build houses on it, move people there, employ them, stock up on things necessary and train accordingly. Involve yourselves constructively in local organizations, try to get into power over those, organize positive and non-political events which are good for cultural awakening, health and folk community. Be nice to your neighbors. Try to get out of the grid dependency, where your food is trucked in, your electricity is not generated by yourself, where you are dependent on the grid to get water and so forth.

Material independence and preparedness is the endgame of preparation. The key factor to it all is local organization, basic survival skills, martial knowledge and training, planning and stores of whatever you need to grow and to fight. Having a great big piece of land is a great way to create a safe haven, but when it comes down to it all power emanates from armed men. Armed men, though, have to be fed, clothed, organized and properly led. If you have that and if you have the guts and brains to act when action is needed and most of all wanted, then we will hold tomorrow firmly in our grasp.

When the old structure collapses in a terrible crapulent heap of chaos, when the food delivery trucks are no longer coming, when the police and military are no longer protecting and serving, because they are with their families or going full on hostile, when the electricity does not work anymore and when being white marks you as a target for non-white goons to kill or rape, then our time begins! Creating order in that situation will be hard, but it is far easier than trying to reform a society with politics. Anyone who we shelter under our standards will be quite willing to adapt to any sort of ways, customs and ideals that we set for them. They will be lost, and we will lead. We will not have much in the way of baggage in the form of entitlement. You see, nobody will expect us to have a social security net, nobody will question the organized religion that we set for them and lead them in, nobody will question that non-whites are the enemy, nobody will be anything less than grateful for what we can in fact do for them. Few people, new or not, in that situation will behave erratically, like anti-whites, and not take up a rifle in the defense of themselves, their families and us as a collective. It will all be quite clear by then. Thus we can mold a new people, carve out a new nation, create a new order and make history together.

Our vision is one of endless beauty. Where people are healthy, where men are men, where women are women, where children get to be children, where everyone works, where nobody or very few hold on to harmful masochistic ideas and methods, where there are no evil strangers, where people do not live in nasty concrete cities, where people are not praying to false gods and harming our peoples in their foreign names, where everyone goes to bed at night after having done work which made them proud. A great nation or nations where all men are warriors, husbands and fathers, where women are mothers and wives, where all children grow up safe, with positive ideals, ideas, with no predators in our midst, free from marxist indoctrination and with plenty of good role models. A nation where men can proudly call each other "brother" and the women are lovingly called "sister". A place and a time where we may reach for everything that is ours by birthright, and and one day even towards the stars.

Our goal is the very first mentally, spiritually and physically white nation and people for almost a thousand years. Germany made a lot of things right for a moment there and then, but were stuck with a whole lot of negatives. See this bad situation of today as an opportunity instead of our doom. In the social and material upheaval, is our chance to get free of everything that has been dragging us down; from nonwhite immigration to socialism, cultural marxist poison, the evil of democracy, feminism, all the harmful universalist religions, the humanism, the liberalism, the global corporations, the banks and Zionist media, the poisoning of our food and water… In short everything which has made us weak. Chaos and collapse gives us a chance to build anew, in the ruins of what was.

Now, it may just be a fairy tale of mine. It may all just be fantasies of a bearded, delusional fool in the north of Sweden who wants to play at being King. Or it may all turn out into something very real, which ensures our ultimate survival and success. That is up to you, my brothers and sisters.






Baldur von Schirach - Yo creí en Hitler


Baldur von Schirach es indudablemente, junto con Rudolf Hess, el superviviente más caracterizado de la época nazi. Militante desde los primeros tiempos alcanzó un puesto preeminente en la jerarquía nacionalsocialista como Jefe de las Juventudes Hitlerianas, y más tarde, ya durante la Segunda Guerra Mundial, como gauleiter de Viena. Condenado a veinte años de reclusión por el Tribunal de Nuremberg y cumplida esta sentencia en la cárcel de Spandau, Baldur von Schirach ha recobrado recientemente su libertad, reintegrándose a la comunidad alemana.

Actor y testigo excepcional del auge y caída del Nacionalsocialismo, hombre de notable valía y conocedor personal de las más importantes personalidades del Tercer Reich, así como de acontecimientos cubiertos hasta ahora de un impenetrable secreto, Baldur von Schirach nos relata en este libro sus apasionantes Memorias. En ellas se muestran al desnudo, con sus cualidades y sus errores, las características de un movimiento político que estuvo a punto de dominar el mundo y que después de elevar a Alemania hasta la cima de su poderío, la hundió en la más espantosa de las catástrofes.
Acogidas en todo el mundo con inusitada expectación, motivo de las más aceradas polémicas, estas Memorias constituyen uno de los documentos esenciales para conocer la agitada historia de nuestro siglo.


Baldur von Schirach - PDF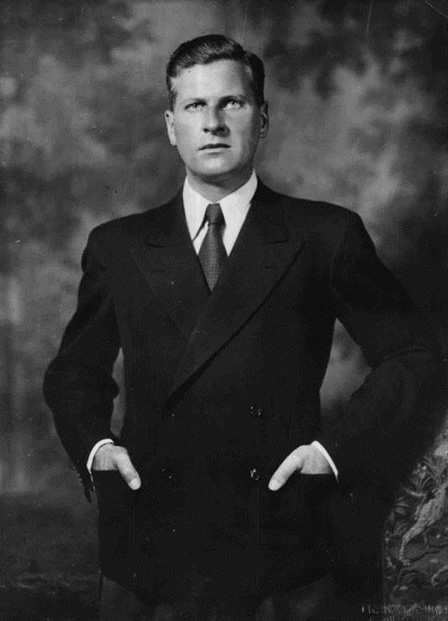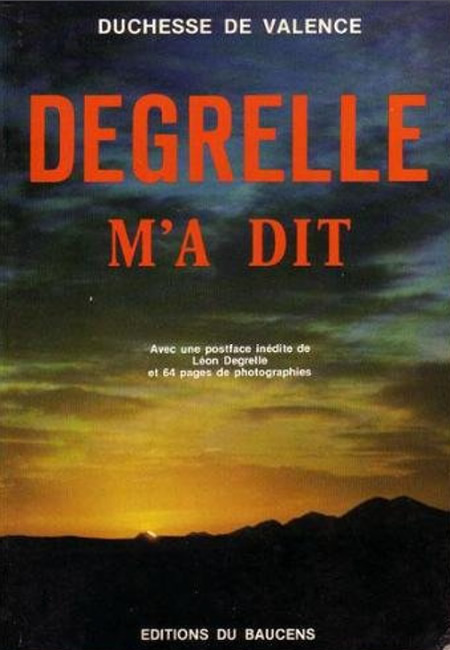 Duchesse de Valence (Louise Narvaez)
Degrelle m'a dit...


Léon Degrelle, fondateur et chef du mouvement Rexiste, devenu plus tard Commandeur de la 28e Division SS «Wallonie», connaît l'exil depuis 1945. Il a confié ses souvenirs à la duchesse de Valence, grande d'Espagne, qu'on a surnommée la «Duchesse Rouge» pour ses positions sociales révolutionnaires. Ce livre, publié pour la première fois en 1961, était devenu totalement introuvable.


SS-Obersturmbannführer et Volksführer der Wallonen Léon Degrelle :
Ouvrages - PDF
A propos de Jean-Marie le Pen
Discourt 1976
Documentaires - Entrevues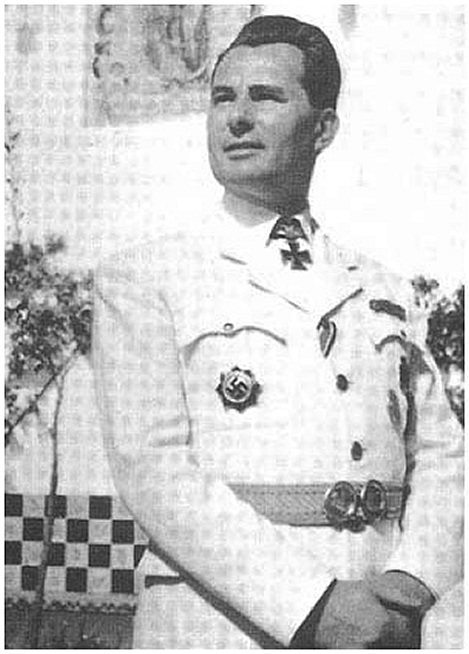 « previous entries - page 1 of 6